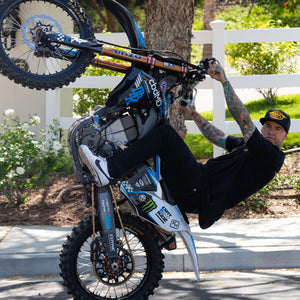 A Dirt Bike Kid for Life - Stay In Touch with Twitch
FMX legend, filmmaker, and entrepreneur Jeremy "Twitch" Stenberg is known to the world as a founder of modern-day Motocross–but his drive doesn't stop when he leaves the track. As a premier athlete since he entered the game in 1998, Twitch has earned six X Games gold medals and has bagged over fifteen consecutive years of top ranking competitive rides in Best Whip, Freestyle, Speed & Style, and Best Trick. Lately, Stenberg has expanded his repertoire, releasing two well-received films, including the highly acclaimed 2014 ode to Motocross, Chasing the Storm.
In 2012, Stenberg created Dirt Bike Kidz to make dirt bike clothing that represented he and his crew's love of the ride. Easy to wear t-shirts, hoodies, tanks, shorts, and more feature wicked designs that let riders and fans alike show off their passion for the sport. Each new style, collaboration, and release feature items that Twitch and the crew live and ride in.
Current Projects - TwitchThis Films
Follow Twitch's "Day in the Life" series on Youtube, or catch videos of some freestyle riding and classic Twitch tricks
Hillside Burners
420 friendly. Twitch has partnered up with The Healing Tree Co of Lake Elsinore, CA, to bring the West Coast some top quality flower and more.
Stay in Touch
---