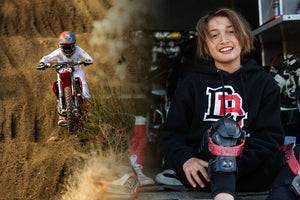 Recognizing & Supporting Our Young Riders
Recognizing & Supporting Our Young Riders at Dirt Bike Kidz
Since the advent of our DBK Sponsorship Program, we've proudly sponsored several young riders as they started out on their journey as MotoX athletes. In honor of our past and present members of the program, we want to spotlight young riders and the people who support them – because they are the future of the sport. 
At DBK, we know how important the right support can be. That remains true whether you're eight or 28. We all had to start somewhere–and it's a whole lot easier to accomplish your goals when you have people backing you up. Wanting to help inspire young riders is what inspired our DBK Kids and Youth Motocross Apparel lines, and it's what keeps our Sponsorship Program going strong. 
So what can we do to better support young riders? Whether you're a parent, sibling, friend, or mentor–you can make a huge difference in their lives and their relationship to the sport. Here are some of our tips. 
Be a sounding board. Everyone needs someone they can bounce ideas, concerns, and questions off of. Keep your ears and your mind open. Create a judgement free space. 

If they don't know already, be sure to teach them the importance of wearing proper gear. Respect the bike, respect the ride–and take the right precautions when it comes to injury-prevention in crashes. 

It's not just about winning. All riders, but especially young riders, should be participating in Motocross because of their love for the sport. Wins and awards come second. 

"Sandwich" your constructive criticism between compliments. A tool used by teachers everywhere, this is a great way to ensure your young rider stays motivated and doesn't let thoughts of "how can I do better next time?" weigh them down. 

Direct them towards reading material! Youtube is an awesome place to learn more about racing, but there are also plenty of print and online magazines that pair information with entertainment. Some websites with content aimed at younger riders include

RacerX

,

Motocross Action Mag

,

Rocky Mountain Rider Exchange

, and

Motocross Advice

, just to name a few. 

Help them choose the right bikes for their age and height. Whether you have knowledge from your own experience or are just really great at research, you can help young riders get on the right whip. The Yamaha PW50 or Suzuki Jr 50 are popular choices for riders aged 3-10, while the KTM SX50 makes an awesome next step up. Once they're ready for a 65cc class bike, the Kawasaki KX 65, Yamaha YZ 65, and the Honda CRF50F are great options. That said, bikes are personal! Your job is to help your rider select what's best for them. 
Motocross is, in our humble opinion, one of the best sports a young person can choose to participate in. It teaches discipline, strength, humility, and self-awareness. As supporters, friends, and parents, we should all do what we can to keep our riders safe and happy.
---