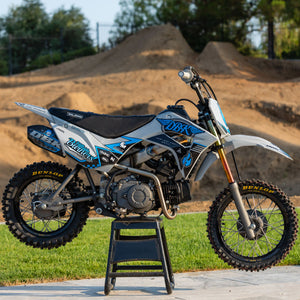 Anatomy of a Pit Bike
Everything You Ever Wanted to Know About Pit Bikes – Including How to Customize Yours
Pit Bikes–the cheaper, lighter-weight alternative to traditional Motocross bikes. Designed to be used in the pit, these bikes are a bit more accessible than standard bikes due to their lower horsepower, decreased sound and smaller frame size. Don't let that deter you, though–pit bikes can pack plenty of power and fun. 
What is a pit bike?
While the higher speed of dirt bikes is meant for off-road riding, pit bikes are especially made for pit riding–and have been used for years in pit bike races and backyards alike. In addition to their lighter frame, they generally require less maintenance in the long term. Generally thought of as easier to ride, pit bikes are beloved by advanced riders and beginners alike. 
Anatomy of a pit bike 
When it comes to general build, pit bike parts don't differ too much from their larger counterparts. You've got the engine, exhaust, drive, bars and controls, brakes, intake, suspension (although less advanced), and tires. Most of the big name bike brands that produce dirt bikes, such as Kawasaki, Honda, and Yamaha, make pit bikes too. Plus, you can customize your bike with moto graphics, just like you can with a dirt bike. However, there are a few key differences.
Height: Pit bikes are shorter than dirt bikes, and require the rider to sit a bit differently than they would on a dirt bike. Pit bikes aren't designed for offroading, since their short frames would be damaged by obstacles on an unkempt trail or terrain. However, their small frame makes for awesome maneuverability in tight places. 

Tires: Because of the bike's size and purpose, pit bike tires range between 12-14 inches, compared to the 18 inch tires of a dirt bike. 

Stroke: While dirt bikes are available in two-stroke and four-stroke form, pit bikes only come with four-stroke engines. This means that each engine cycle consists of four strokes or piston movements, delivering sustained power to the bike. In contrast, two-stroke engines can be a bit jumpier and harder to work with if you're just starting out or making a lot of tight turns.

Engine power: The most powerful engine you can get on a pit bike is a 200cc. Pit bikes generally range between 50cc and 110cc, while full size dirt bikes generally don't go lower than 125cc. Because of their lighter weight and smaller engine, pit bikes also have less torque than dirt bikes. 
Why choose a pit bike?
With prices that range from around $300 to $4000, pit bikes are cost accessible. In addition, they are a great option for younger or beginning riders. Because they operate at lower speeds, you can practice tricks and turns without running a high risk of crash or injury. 
Even for more advanced riders, the low maintenance of a pit bike makes it an appealing option. Because you're not offroading, your parts see less wear and tear–meaning they last much longer. And, if you do need to replace something, pit bike parts are generally less expensive than their counterparts. 
Pit bikes are great when it comes to versatility. Unlike dirt bikes, you can ride a pit bike in your backyard or driveway–it doesn't require a special terrain. They're awesome on trails, and easy to handle for any skill level. While dirt bikes require days of training just to get the basics down, pit bikes ask a bit less of the rider. 
Your pit bike can serve as a transition bike, or as your main ride–they're super cool in their own right, and look just as awesome as their larger counterparts. 
With a little care, your pit bike can serve you well for a long time. 
How to customize your pit bike
Once you've chosen your bike, you can customize it with an exhaust system and graphics that show off your name and race number, or match your favorite riders' logos. This elevates your bike's aesthetic and lets you make your ride your own. 
Whether you've got a Kawasaki KLX, Yamaha TTR, Honda CRF, or Stacyc, DBK has some seriously cool pit bike graphics, from signature kits to fender stickers, exhaust stickers, and special Twitch edition graphics for your whole bike. Choose between a matte and shiny finish, and add on a custom DBK seat cover for something extra special. All our graphics are made of high quality, industry-standard materials that are built to last. 
No matter what bike you're on, pit bike riding and racing is first and foremost about the love of the sport. See you on the trail. 
---