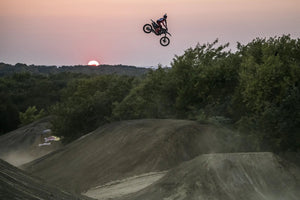 2021 Red Bull Imagination
At Dirt Bike Kidz, we're proud to be a part of some of the biggest events in Motocross. We love races and tournaments of all sizes because they bring together the unique riders that make up this industry. That's why we're excited to support one of our favorite events – hosted by our very own Tyler Bereman.
The Red Bull Imagination Tournament is a freeride event created and organized by Tyler Bereman, freeride legend and long-time regular at your favorite MotoX events. The inaugural tournament was in 2020 and was a huge success – providing exciting challenges and a great time riding with friends. He followed it up in 2021 with a brand new course design, practice sessions with the best in the sport, and an epic competition on Course 2.0, judged by a panel of freerides that include Robbie Maddison, Steve Haughelstine, and our own Jeremy "Twitch" Stenberg. 2021 riders include Josh Hill, Colby Raha, Darryn Durham, Ryan Sipes, Cole Seely, Axell Hodges, Jimmy Hill, Tom Parsons, Christian Dresser, Billy Carpenter, Vicki Golden, and of course, Tyler Bereman. This year's event was held on the rolling hills of Fort Scott, Kansas.
The custom-built course is massive, has tons of lines to choose from, and features jumps everywhere you look. Course designer Jason Baker built off of 2020's success to make this year's tournament even more unforgettable. The course has three distinct zones: the Technical Jib Section, which features a wallride and hip for riders to hit from opposite directions simultaneously; the Transfer Zone, a mashup of a skatepark and supercross transfer that lets riders take creative rein; and the Big Dawg Section, with a spine on the side of the quarterpipe for optimal technical innovation from all directions. Most notably, there are no start and finish lines – encouraging riders to push the limits of the course and take their own unique approach. And after two practice days, the competitors did not fail to deliver.
In order to make the podium, riders had to demonstrate magnitude, creativity, and execution on their lines in two consecutive five-minute runs. After more than a few jaw-dropping tricks from every rider, Hodges brought it home with a winning score of 94, followed by Raha with 92 and Bereman with 86. Check out the tournament footage to see how it all went down.
Tyler has put his imagination to use and made his dreams a reality with this epic event. The crew at DBK is pumped to have someone like Tyler on our team! Learn more and check out some of their lines on the official tournament website.
About Tyler:
Originally from Templeton, CA, Tyler has been killing the game since he joined the Moto X sport. Inspired as a kid by the legendary rides of Jeremy McGrath as well as his family's love for flat track racing, Tyler entered the sport in 2010 with a win at the AMA Amateur Nationals. Known for his laid back approach and positive vibes, Tyler has won medals at several X Games from 2013 to 2019, where he won Best Whip and earned silver in Quarter Pipe High Air. He also moonlights as a stunt rider, busting through a plate glass window of a casino in Fox's Lethal Weapon series. These days, he spends his time free riding, doing stunt work, organizing The Red Bull Imagination Tournament, and finding out where his determination and drive will take him next.
---