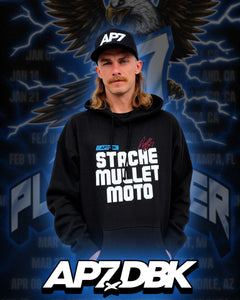 Getting to Know Aaron Plessinger: The Man Behind the Mullet
Here at Dirt Bike Kidz, we're thrilled to partner with Aaron Plessinger (aka AP7) to create a full lineup of AP7 x DBK merchandise. As a fan favorite in the sport today, Aaron Plessinger's motocross career achievements, personality, and perseverance have inspired all of us at DBK. So when the chance came to partner with him on a new line of Aaron Plessinger merch this year, we couldn't have been more stoked. 
Many fans may know Aaron Plessinger for his "Do it for Dale" podium speech at the 2021 Daytona Supercross, his racing career began long before that. Born in Hamilton, Ohio, Aaron started his racing career at age 19 with the Yamalube Star Racing Yamaha team in 2015. He was named Pro Motocross 250 class Rookie of the Year in 2015. His career has spanned the 250 and 450 classes and earned him numerous wins and podiums along the way including first place in the AMA Supercross Championship 250SX West in 2018 and first place in the AMA Motocross Championship 250 in 2018. He's seen eight career AMA Pro Motocross Championship wins and eight podiums. 
After racing for Yamaha through the majority of his career, Aaron Plessinger currently rides for Red Bull KTM. He moved from the 250 class to the 450 in 2019 and joined Red Bull KTM in 2022 on a two-year deal. In 2023, he competed in the Detroit Supercross where a late crash cost him the victory. You can read more about that race in this Aaron Plessinger interview. 
His career has seen both success and injuries throughout the past few years. But in victory and defeat, Aaron Plessinger's signature smile and positive attitude make him a favorite among fans of the sport. Off the track, he's a dedicated husband and father who takes pride in being a patriot and Ohio native. And in recent years, Aaron's mustache and mullet have become widely recognizable and built a fan following of their own! Our new line of AP7 x DBK merch includes nods to Aaron's signature style with our "Stache Mullet Moto" shirts and sweatshirts, as well as other Aaron Plessinger merchandise. 
With apparel for adults and kids, our new AP7 x DBK line includes all the Aaron Plessinger shirts, hats, and sweatshirts you need to cheer on your favorite racer! We also included keychains, beanies, and stickers so you can make sure everyone knows who you're cheering for this year.
To stay up-to-date on Aaron and his career, check out his
website
, follow Aaron Plessinger on
Instagram
, and check out Aaron Plessinger's stats on
Racer X
. 
---